36 THE SQUARE BELLOWS FALLS, VT 05101
RESERVATIONS BY PHONE ONLY 802.460.7676
INFO@POPOLO.US JOIN OUR MAILING LIST

employment and training

The Great Outdoors
Saturday, September 10, 2016 from 6:00 PM - 10:00 PM
#_LOCATION | #_ADDRESS | #_TOWN
THERE MAY STILL BE A FEW TICKETS AVAILABLE BUT THEY'RE NO LONGER AVAILABLE ONLINE.
PLEASE PHONE THE RESTAURANT AT 802-460-7676 TO PURCHASE.
Tickets are $68.00 which includes dinner and its tax and service but not alcohol or its tax or service.
The wine pairing [one course of which is a still cider] is an additional $40.00 and needs to be purchased separately. There's also a full cash bar.
Popolo Presents "The Great Outdoors" Saturday, September 10, 2016
A Dining Field Trip to Coolidge State Park with New Music By The Renowned Arc Iris
If the mountain won't come to Popolo, Popolo will go to the mountain. On Saturday, September 10, the Bellows Falls community restaurant is presenting an evening in the Great Outdoors at Calvin Coolidge State Park in Plymouth, VT.
The night starts with a prix fixe five-course dinner featuring New England game and area vegetables prepared and served by Popolo's fine kitchen and service staff. Every course comes from area farmers, fisherman, and artisanal producers. Known for both its seasonal menus and its regular events, Popolo is no stranger to this sort of out-of-the-box concept.
"We'll be going off-menu for this event," reports Tim Cocheo, Popolo's head chef. "We're serving a woodsy selection of dishes custom-designed for dining al fresco on the top of a mountain. It's going to be a once-in-a-lifetime feast in a transcendent open-air setting." The full menu will be posted shortly.
For the true Epicureans a wine pairing is available for an additional $40.00, selected by Popolo's own wine fairy, Kristen Fehrenbach.
Dinner will be served in high style on china and linens in the old Ski Shelter on Bradley Hill. The shelter's handsomely restored timber construction and two massive stone fireplaces open onto westward sunset views of Killington and the breathtaking grandeur of the Green Mountain National Forest. It's a setting in which you might find Julie Andrews spinning ecstatically with arms outstretched. But the night goes one better.
After the sun goes behind the mountains, renowned national touring artists, Arc Iris, will take the stage and debut their long-awaited album, "Moon Saloon." Fronted by ex-Low Anthem multi-instrumentalist Jocie Adams, Arc Iris has visited Popolo several times to rave reviews. The band's music has matured into a genre all its own and along the way has garnered extraordinary reviews from NPR, Rolling Stone, The Guardian, and The New York Times, which claimed that Arc Iris's music "inhabits its own otherworldly place, where ghosts and angels hover just out of view."
An unusual choice for a concert in such an unlikely locale, the band jumped at the opportunity.
"Who doesn't love a magical event," notes the band's Ms. Adams, "so how could we say no to an show on a mountaintop!"
Calvin Coolidge State Park was built in the 1930s by the Citizens Conservation Corp and is one of the most beautiful parks in the Vermont State Park system. The spectacular landscaping highlights 36 adirondack lean-tos, some with unparalleled views of the surrounding mountains and their original stone hearth fireplaces.
Asked why the restaurant would go to so much trouble, Popolo's manager, Gary Smith, doesn't mince words, "There's a range of things one can do to make the world better– charitable giving, community service, job creation – the list is long. Popolo tries to be part of this, of course, but often overlooked is the simple building of great memories. This is a fabulous setting, a great menu, and extraordinary music. For just one night a small group of people can indulge in the best of tastes and sights and sounds the world has to offer. Why the heck not?"
Reservations are required and seating is limited. Tickets are $68 which includes five courses, the musical performance, and, if you please, camping is free of charge. There's a full cash bar aptly named "The Moon Saloon" serving traditional and event-specific signature cocktails.
Popolo will be closed for lunch and dinner on Saturday September 10, to create this special event in the mountains. If inclement weather causes the cancellation of the event, tickets are fully refundable.
More info and tickets are available at popolomeanspeople.com and in the restaurant at 36 The Square, Bellows Falls or by phoning 802-460-7676. Outside Lodging may be found among other places, at
The Salt Ash Inn, Plymouth, VT (from $113.00)
Jackson Gore Inn, Ludlow, VT
Killington Grand Resort
Lincoln Inn, Woodstock
Birch Ridge Inn, Woodstock
About Coolidge State Park [from the VT State Park Website]
A trip to Coolidge State Park is a trip back in time; the park remains essentially the way it was when it was first created in the 1930s. Known for its rustic feel, hillside campsites that give way to dramatic mountain views, and authentic character, Coolidge State Park is the developed recreation centerpiece of the 21,500 acre Calvin Coolidge State Forest, the largest state-owned land holding in central Vermont. Coolidge State Park is the only Vermont park with an entire loop of lean-to campsites, some of which have sweeping views of the Black River valley and the Green Mountains. Many campers feel that sites at Coolidge have the best views in all of Vermont. The park also has a loop of forested campsites, restroom facilities with showers, a hilltop picnic area with a log picnic shelter, a group camping area, and several remote lean-to campsites for those wishing to really escape it all.
Within the park, there are miles of hiking trails to explore, several streams home to elusive brook trout, and abundant wildlife. Some visitors are lucky enough to catch a glimpse of a barred owl, a moose, or rarely even a black bear! Nearby is the village of Plymouth Notch, the birthplace of Calvin Coolidge, 30th president of the United States.
Calvin Coolidge State Forest was established in 1925, when Perry Merrill (then head of State forests and parks) arranged the purchase of a tract of land in Plymouth He was successful in obtaining funds for the property due to the great public interest in the Coolidge family and popularity of Plymouth Notch.
Camp Calvin Coolidge, located in Calvin Coolidge State Forest, was established June 9, 1933 as the third Civilian Conservation Corps (CCC) camp in Vermont. The original Coolidge State Park was built solely by the CCC. They also completed a network of forest highways and carried out extensive reforestation projects.
Much of what is now Coolidge State Forest was once cleared for tilled land and pasture, as evidenced by extensive stonewalls and many foundations. In the late nineteenth century there was a small town immediately adjacent to Coolidge State Park (later becoming part of the Forest). Businesses once located there included a store, blacksmith shop, and a hotel.
There are 36 lean-to sites and 26 tent/RV sites arranged in two camping loops. There are four rest rooms providing modern plumbing, two of which have hot showers ($). There is a large picnic shelters and group camping area. There is also a nature center, horseshoes and a play area. There is a sanitary dump station for RVs, but no hookups. Many day hikes are available in the park.
There a several hiking trails, volleyball and a group camping area in the park.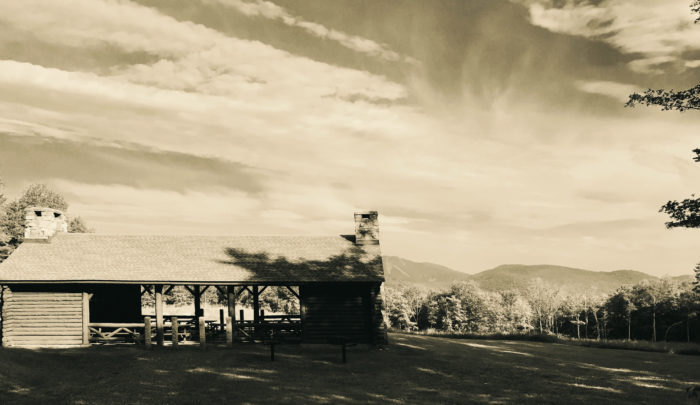 See More Events